was able to watch the first tenimyu yesterday and did some capping. yanagi kotaroh is waaaaay too hot. the problem is it's hard to cap a pic of him because either his hands or racket's in the way, the lighting's waaay too off, he has his back or profile to the audience or his cap hides his face. but still... *squeels*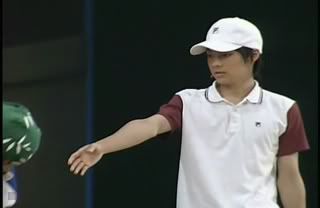 see! blame it all in the cap!
next to him, i sooo love morieiji. his facial expressions are priceless. he can dance, he can sing and he can act. and he is sooo adorable when he do all of those.
lj-cuts are full of screencaps. beware if anyone's one dial-up.
( shirtless and undressing yanagi makes me swoon )
and now for more random screencaps.
( ph33r my crappy screencapping and captioning skills )
( and for those who don't know... here are two of the casts that'll play a role in the upcoming bleach musical. )
more pics here .
Meme stolen somewhere can't remember where...
Pick 5 fandoms and do this for each of them:
1. The first character you fell in love with:
2. The character you never expected to love as much as you do now:
3. The character everyone else loves that you don't:
4. The character you love that everyone else hates:
5. The character you used to love but don't any longer:
6. Which character did you think you would love but didn't: